Description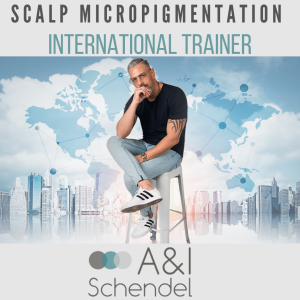 Adi Schendel is a world renowned Permanent Makeup Artist & Educator, founder of the Adi Schendel Academy in Israel and A&I Schendel PMU machines, pigments and products. He is a true pioneer when it comes to permanent makeup and scalp micropigmentation. He is coming to Canada Summer 2022 to give this Master Class. This Scalp Micropigmentation (SMP) training will give you all the skills you need to set-up your own scalp micropigmentation business or to incorporate the treatment into an existing practice.
Scalp Micropigmentation & PMU Tattoo Removal Master Class
Date: June 26 & 27, 2022
Location: 251 Highland Road West, Kitchener, ON.
Course Duration: 2-day hands-on and theoretical training course.
Fees:
Course Options:
Option 1. Scalp MicroPigmentation Only – $1700+HST
Option 2. Scalp MicroPigmentation and Tattoo Removal – $1999+HST (Save over $200)
Option 3. Tattoo Removal Only – $500+HST
Deposit:
$1000 for Option 1 and 2 OR full payment for Option 3
Deposit must be paid in full, with the submission of a registration form to reserve your spot.
Deposits and final payments can be made in person, over the phone, or through the A&I Schendel Canada website. The deposits are non-refundable and non-transferable.
The fees include all necessary course material, including mannequin head, pigments, and other essentials. Lunch will also be provided for students both days. Please note that the fee does not include the PMU machine and needles. Please bring your own micropigmentation machine and needles. The needles required are 1RL and 3RL. If you do not have a machine, please let us know via email or phone to discuss rental or purchase options. Purchase options must be arranged by June 10, 2022, so that equipment can be shipped in time. *If you purchase the A&I Schendel Digital Machine (Cordless Machine or Black Diamond) as well as any pigments or products, you will receive 20% OFF.
No previous training or knowledge is required and the course is delivered with a low student to instructor ratio to provide the highest possible standard of training. 
Trainees will complete the following elements:
Theoretical knowledge on all aspects of SMP including: colour theory, needle theory, skin theory, machine use, safety, hygiene/sanitation, hair line mapping, pre/post procedures, proper technique, pigment retention, recovery process and PMU tattoo removal.
Demonstration on live model by Adi Schendel
Practice on artificial skin: This will give you the opportunity to make mistakes without any worries as you develop your skills
On going Support: Continuous support and guidance will be provided to our students following course completion. Your instructors can be contacted directly for ongoing mentorship.
Class Schedule: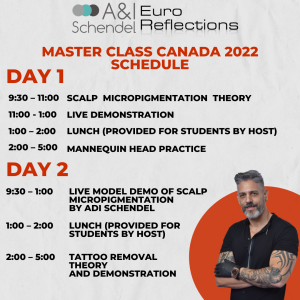 Who is scalp micropigmentation intended for?
Scalp Micropigmentation may be useful for both men and women who experience all forms of hair loss. It can be used for:
Restoring receded hairlines
Creating natural looking density amongst existing hair
Camouflaging scars, particularly those left from hair transplants
Narrowing a wide hair part
Male/Female Pattern Baldness
Women's hair loss
Alopecia
Hair Transplants
Hide scars, burns and birthmarks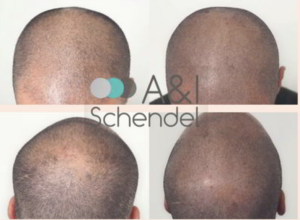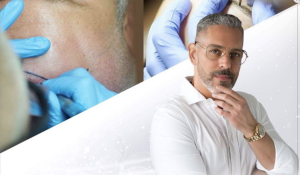 PMU Tattoo Removal Training
A&I Schendel has developed a unique salt- based product that removes unwanted permanent makeup. During this Master Class you will learn about this innovative product and how to use it in your PMU practice. 
What are the benefits of this removal method?
Simple, safe and effective method that does not cause trauma, injury or

scarring of the skin.

Quick treatment method offering FAST results.

Remove PMU made both manually and with an electric device.

Correct mistakes immediately during permanent makeup treatment.

Remove

all

pigments including camouflage colours which lasers cannot

remove.

There is a noticeable improvement in the appearance of the skin

after treatment.

Suitable for almost all skin types.

Excellent as a complementary process to laser treatments.