Description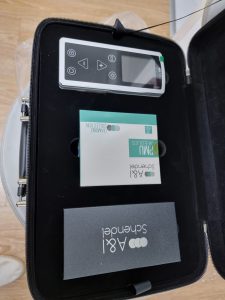 Black Diamond Micropigmentation Machine has illuminated White LED buttons to provide a quick and accurate activation/voltage adjustments with the touch of a finger.
Finely tuned to work flawlessly through barrier controls. Increase or decrease your voltage in fine precise adjustments of 0.1 volts/0.2 volts or rapid coarse adjustments of 0.5 volts.
Automatically save your last used settings.
Preset up to four of your favorite voltage settings and recall them all with the click of a button! Momentary (press and hold) or maintained mode for those times when turning your machine on and off isn't necessary.
Determine the amount of treatments you're doing by using the Runtime Mode, which activates with each footswitch command or switch to Stopwatch Mode to track your overall session.
Resume your treatments with your last used settings after 30 minutes of inactivity with the click of a button (or your footswitch).
Technical specifications:
Dimensions:6.8*2.8*5.6″
Weight: 1.32 lb (0.6kg) Without Power Cord
Import:100-245V,1.4-0.7A,50/60 Hz
Output:1.5-18V 2A
Warranty:2-Year warranty
This instrument has been tested to and complies with CE, FCC, SAA
Featuring:
High touch sensitivity voltage adjustment buttons for quick and accurate fine touch adjustments and rapid 0.2 volts/3 x per second coarse voltage adjustments.
Sleep Mode – 30 minutes
Brightly lit LCD display and LED buttons
Durable precision laser cut stainless steel stand
Four speed/voltage presets